The Australian South Sea Pearl is the rarest and most highly prized pearls in the world. The pearling process begins in the pristine coastal waters of North Western Australia. Their natural lustre and size are unequalled by any other pearl.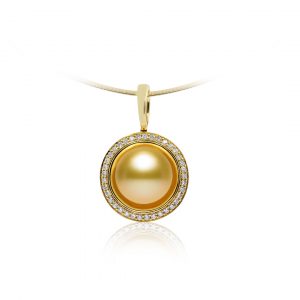 There are five virtues of fine pearls that define their value; Lustre, Size, Shape, Complexion and Colour.
Lustre
Lustre is the paramount characteristic of pearl quality that is instantly noticeable. It is not only how light reflects from the pearl's surface, but also how it seems to glow from within.
Like all virtues, the lustre of South Sea Pearls is natural. The natural lustre is everlasting and should not be confused with the superficial shine of treated or simulated pearls that diminish over time.
Size
Australian South Sea Pearls are the largest of all pearls, ranging from 8mm to 18mm. Larger sizes exceeding 18mm are occasionally found and are extremely rare and highly prized.
Shape
Perfectly Round pearls are the rarest, and are valued accordingly.  A pearl's shape is purely a personal preference but it does impact on a pearl's value.
Complexion
Obviously, a pearl is considered more valuable when the surface imperfections are minimal, however pearls are grown in the ocean by a wild oyster and nature almost always leaves its mark.
Colour
South Sea Pearls come in an array of natural colours. The natural colours are typically white, silver, cream and gold. White with pink overtones (Rosé) is the most prized colour.
Colour, like shape is a very personal choice. ­­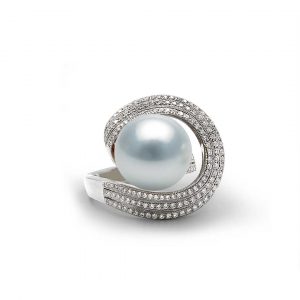 Come in to Cosmopolitan Jewellers, one of the leading South Sea Pearl stores in Sydney, Australia. We carry Australian White South Sea Pearls, Golden South Sea Pearls and Tahitian Pearls. Our South Sea Pearl Jewellery is uniquely and exquisitely designed and crafted in 18k gold. We carry an extensive range of Pearl stud earrings, Pearl drop earrings, Pearl pendants, Pearl rings, Pearl bracelets, and strands of Pearl necklaces. We also have a beautiful collection of Baroque and Keshi pearls.
You will be attracted to the beauty of South Sea Pearls without being an expert.  Australian South Sea Pearls have an inexplicable inner presence that glows, resonates- choosing you as much as you have chosen it.