Australia is synonymous with opal, producing approximately 95% of the world's precious opal. Revered for its mesmerizing play-of-colour, the Australian opal boasts a spectrum of colours, ranging from deep blues and greens to fiery reds and yellows, all depending on the stone's composition, structure, and the angle of observation.
Types of Australian Opals: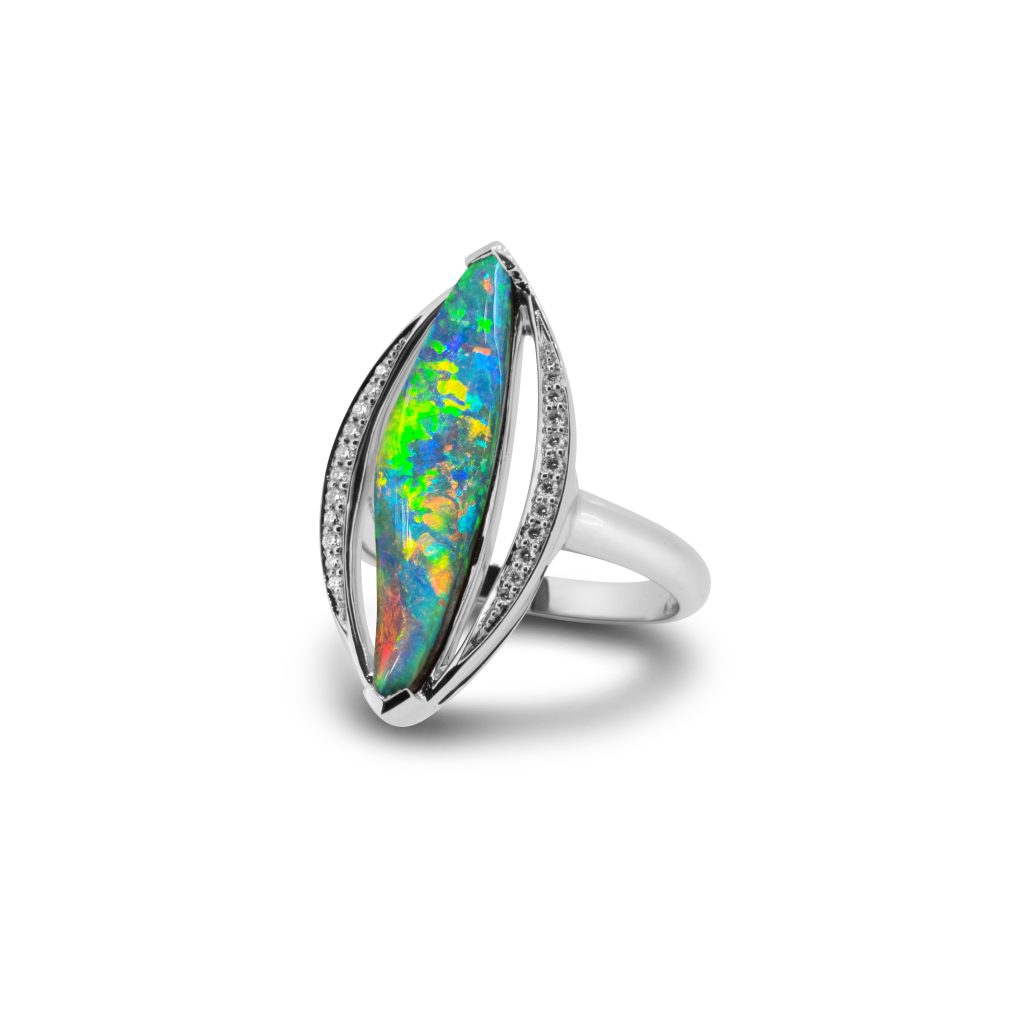 Black Opal: This is perhaps the most famous and valuable type. Found primarily in the Lightning Ridge area of New South Wales, black opals display a dazzling array of colours against a dark body tone, creating a mesmerizing contrast.
Boulder Opal: Mined in Queensland, these opals are found in patches or veins within ironstone boulders. Their unique appearance combines the brilliance of the opal with the matrix of the surrounding rock, producing distinctive patterns.
White or Light Opal: Predominantly sourced from South Australia, especially from the fields of Coober Pedy and Mintabie, these opals have a lighter body tone compared to their black counterparts but can be equally as vibrant in colour.
Crystal Opal: Transparent to semi-transparent, these opals allow light to pass through, intensifying their play of colour.
Matrix Opal: This type of opal is intimately diffused as a network or tiny specks within the host rock, generally found in both Queensland boulder opals and South Australian Andamooka opals.
Cultural and Historical Significance:
The indigenous peoples of Australia, particularly the Aboriginal groups, have held opals in high regard for thousands of years. To them, the opal embodies the colours of the landscape and carries deep spiritual significance. They believed that opals were the footprints of their ancestors and that the play-of-colour captured the essence of the rainbow, among other creation stories.
In modern times, the Australian opal industry has grown immensely, contributing significantly to the nation's economy. Opals have become emblematic of Australian identity and are sought after by collectors, jewellers, and enthusiasts from all corners of the globe.
Care and Maintenance:
While opals are beautiful, they are also delicate. They have a high-water content and can be prone to drying out or cracking if not cared for properly. It is recommended to avoid sudden temperature changes, exposure to harsh chemicals, and physical impact. To clean, simply use mild soapy water and a soft cloth.
Australia's opal is truly a natural wonder, reflecting the vast and diverse landscapes from which they emerge. Whether set in jewelry or admired as loose gemstones, their brilliance and depth of colour continue to enchant all who encounter them.